Change & transformation specialists with a

personalised approach
We tailor our approach and the composition of our team around the range of specialist skills and capabilities required to respond to our client's needs. Our delivery approach is highly pragmatic, collaborative and based on sound theoretical understanding and deep experience.
Our combined experience and breadth of knowledge enable us to be receptive to diverse and complex business environments across many industries.
Allegra Consulting is a centre for change management and transformation excellence and the partner of choice for organisations that want the best people to help them achieve their transformation goals.
Change capability

Future state strategy, design & implementation

Transformation office setup & enablement

Project recovery & implementation
All consulting services
we provide
We do not take a 'one size fits all' approach. We partner with clients to understand their needs, then design, build and embed the solution to ensure it is sustainable and can scale and evolve with the business.
Partnering
for success

Experienced team
Our reach (across Australia and New Zealand) ensures that we can mobilise our team to respond to emerging issues. With a workforce of professionals with deep industry experience we can leverage a wealth of experience, and draw on specialist resources with the unique experience required to make this implementation a success.

Leverage our insights
Allegra's experience in delivering complex solutions for private, public and not-for-profit sector clients has given us a unique insight into the key factors that make complex transformational solutions successful. Our aim is to bring best practices coupled with our experience working in multiple industries to deliver a competitive advantage to our clients.

Integrated approach
Our approach to transformation is integrated, and we understand that change means a shift in how a business operates, including potential changes to policies, processes, platforms, ways of working and service delivery.

Sustainable solutions
We enable our clients to grow. Our focus is to ensure your people benefit from our collaboration and insights. We will work with you to build capability through coaching and interaction, sustaining you through the future.

A true partnership
We view ourselves as a true partner rather than a supplier. We want to share and thus mitigate our client's risk. Delivering implementations are complex, with multiple layers of stakeholders, process, infrastructure and people and our success is driven by an authentic partnership approach.

Proven results
Many of Australia's largest organisations and businesses turn to Allegra when supporting their change requirements. Why? Because we have a proven track record of delivering results over long periods with our partners.
Our approach

to change management

Our Change Management Framework has been built on our experience of what we know works and is practical for the organisation.

We take a holistic approach to solution design, ensuring that the project's complexity and an organisation's multidimensional nature are considered. Our frameworks and models provide organisational alignment throughout, ensuring the solution can be as dynamic and agile as the project or organisational context it serves.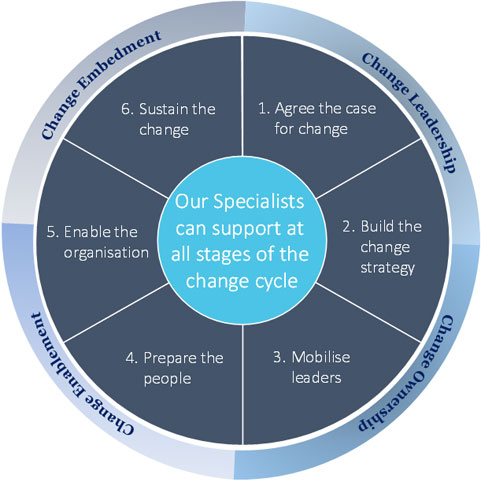 Our six-stage approach ensures the project is supported through effective change management planning, stakeholder management, communication, evaluation of outcomes and knowledge sharing.
Agree the case for change
Clearly articulate what change is required and how it will impact business results. Gain agreement amongst key decision-makers on the strategic intent, parameters, and outcomes of the change.
Build the change strategy
The change vision is defined, the business assessed, and the change impacts understood. Change governance is established and planning to deliver the change strategy is completed.
Mobilise the leaders
Gain and maintain commitment from those leading the change. Key leaders and stakeholders understand and sponsor the change vision and business case for the change. Leaders have the knowledge, support and resources to drive the change.
Prepare the people
Create understanding and commitment to the change. Stakeholders and target audiences are engaged in the change journey and receive the information and skills they need to work in the new way.
Enable the organisation
Transition people through the change and implement new ways of working. Monitor the change effort – reviewing and refining as needed.
Sustain the change
Embed the change into the business to enable sustainability. Success of the change effort is measured and communicated. Key learnings are captured for future change activities.